Saleh Al Hamad Al Mana Co. supports QC'S awareness efforts
QCS Team
Qatar Cancer Society (QCS) has received a kind donation from Saleh Al Hamad Al Mana Co. the exclusive agent for Nissan in Qatar, a Nissan X-Trail vehicle to support the campaigns  and awareness efforts led by the Society to raise  public awareness on cancer, ways to prevent it, and importance of early detection.
Dr. Dera Al Dosari, Director of Resources Development Department at QCS, thanked Saleh Al Hamad Al Mana Co. for the kind gesture of supporting the Society in the field of cancer awareness, stressing the importance of the joint efforts to serve the community and fight cancer, and in line with Qatar National Vision 2030 to focus on the human factor and invest in human health.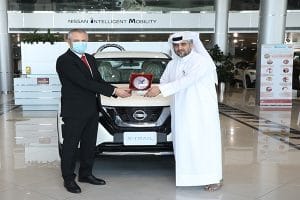 He affirmed that QCS will continue its efforts towards achieving its vision in the community by making Qatar a leader in cancer prevention and control, as well as its mission to achieve these goals through working with partners such as Saleh Al Hamad Al Mana Co. to spread awareness in the community and support, empower, and advocate for individuals living with cancer. He added that during the last interval, QCS witnessed a remarkable development and became one of the pioneering institutions in this field under the leadership of Dr. Khalid Bin Jabr Al Thani, who is doing his best towards constant improvement.
Commenting on this occasion, Mr. Nassim Mourani, General Manager – Automotive Group at Saleh Al Hamad Al Mana Co. said, "Social responsibility is one of our core values and our way to give back to our community. This partnership with Qatar Cancer Society reiterates this commitment and Saleh Al Hamad Al Mana Co. will continue to support such initiatives that reflects our brand identity and ethos."
Both organizations wished that all companies in Qatar to join hands to spread awareness about cancer and provide support to people living with the disease.