Cancer is uncontrolled division and growth of abnormal cells, which can involve any tissue of the body.
Cancer can sometimes spread to other parts of the body by blood and lymph systems.
Cancer is not one disease, it's a group of more than 100 different diseases.
Most cancers are named according to the type of cell or organ in which they start.
Cancer has stages and grades:

The stage of a cancer means how big it is and whether it has spread.
The grade of a cancer means how abnormal the cancer cells are.

Cancer can be treated successfully, if it diagnosed at an early stage before it spreads to another part. For example: more than 90% of women diagnosed with breast cancer at earliest stage survive from the disease.so adults should have regular cancer screening tests to help find cancer early.
There are 3 main types of cancer treatment: surgery, chemotherapy and radiation.
It's important to know your body, and to tell your doctor if you notice any unusual changes or anything that doesn't go away or gets worse.
But remember that having any of the following signs or symptoms doesn't mean that you have cancer, many other things cause these, too.
Unexplained weight loss.
Thickening or lump in any parts of the body.
Unusual breast changes (lumps, discharges, etc.)
Persistent cough or coughing up blood.
Hoarseness that lasts for a long time.
Blood in stool.
Changes in bowel habits (constipation or diarrhea for long time)
Changes in urination or changes in bladder function
Difficulty swallowing.
Unexplained vaginal bleeding.
Sores that do not heal.
Unexplained fever.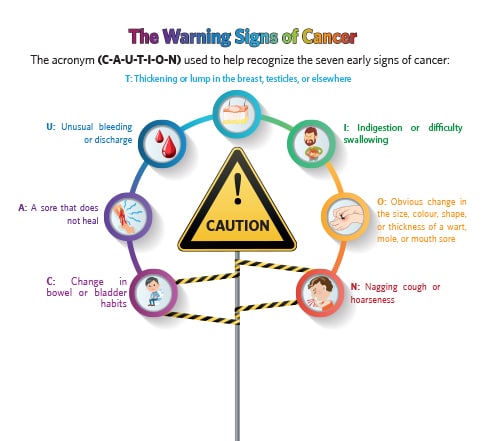 According to the most recent reports published by Qatar National Cancer Registry (QNCR, 2015), breast, colorectal, and prostate cancers lie on top of the most common newly diagnosed cancers in Qatar. Figure 1 summarizes the top ten cancers in Qatar in terms of their incidence: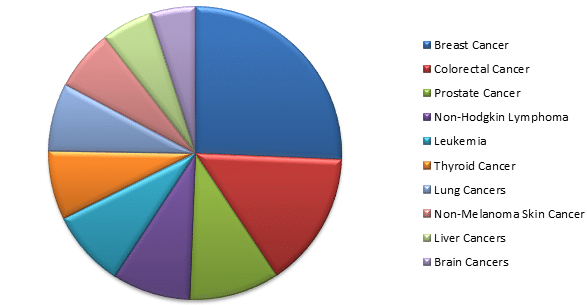 According to the most recent reports published by Qatar National Cancer Registry (QNCR, 2015), breast, colorectal, and prostate cancers lie on top of the most common newly diagnosed cancers in Qatar. Figure 1 summarizes the top ten cancers in Qatar in terms of their incidence: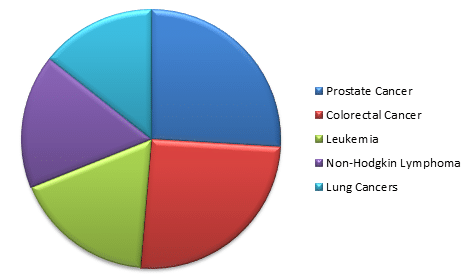 According to the most recent reports published by Qatar National Cancer Registry (QNCR, 2015), breast, colorectal, and prostate cancers lie on top of the most common newly diagnosed cancers in Qatar. Figure 1 summarizes the top ten cancers in Qatar in terms of their incidence: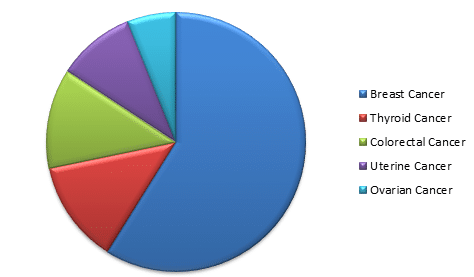 Cancer is uncontrolled division and growth of abnormal cells, which can involve any tissue of the body.
Cancer can sometimes spread to other parts of the body by blood and lymph systems.
Cancer is not one disease, it's a group of more than 100 different diseases.
Most cancers are named according to the type of cell or organ in which they start.
Cancer has stages and grades:

The stage of a cancer means how big it is and whether it has spread.
The grade of a cancer means how abnormal the cancer cells are.

Cancer can be treated successfully, if it diagnosed at an early stage before it spreads to another part. For example: more than 90% of women diagnosed with breast cancer at earliest stage survive from the disease.so adults should have regular cancer screening tests to help find cancer early.
There are 3 main types of cancer treatment: surgery, chemotherapy and radiation.

It's important to know your body, and to tell your doctor if you notice any unusual changes or anything that doesn't go away or gets worse.

But remember that having any of the following signs or symptoms doesn't mean that you have cancer, many other things cause these, too.

Unexplained weight loss.
Thickening or lump in any parts of the body.
Unusual breast changes (lumps, discharges, etc.)
Persistent cough or coughing up blood.
Hoarseness that lasts for a long time.
Blood in stool.
Changes in bowel habits (constipation or diarrhea for long time)
Changes in urination or changes in bladder function
Difficulty swallowing.
Unexplained vaginal bleeding.
Sores that do not heal.
Unexplained fever.

cancer general signs and symptoms

According to the most recent reports published by Qatar National Cancer Registry (QNCR, 2015), breast, colorectal, and prostate cancers lie on top of the most common newly diagnosed cancers in Qatar. Figure 1 summarizes the top ten cancers in Qatar in terms of their incidence:

Figure 1. Most common malignant cancers across all nationalities and genders in Qatar

According to the most recent reports published by Qatar National Cancer Registry (QNCR, 2015), breast, colorectal, and prostate cancers lie on top of the most common newly diagnosed cancers in Qatar. Figure 1 summarizes the top ten cancers in Qatar in terms of their incidence:

Figure 2. Most common malignant cancers across all nationalities among men in Qatar

According to the most recent reports published by Qatar National Cancer Registry (QNCR, 2015), breast, colorectal, and prostate cancers lie on top of the most common newly diagnosed cancers in Qatar. Figure 1 summarizes the top ten cancers in Qatar in terms of their incidence:

Figure 3. Most common malignant cancers across all nationalities among women in Qatar
---