It is a group of cancer that originates in the head and neck area and it affects the mouth, the nose, the sinuses, the throat, the larynx (voice box), and the saliva glands.
Smoking in all its forms (including chewing tobacco "Sweika" and indirect smoking(
Drinking alcohol
Specific viral infections in the mouth
Previous head and neck cancer
Excessive exposure to radiation
Occupational exposure to some substances (especially people working in certain jobs in the construction, metal, textile and ceramic)
You should consult your dentist or your Ear Nose Throat specialized doctor immediately if you have any of the following symptoms in a persistent (chronic) manner:
Blockage or bleeding in the nose
Pain, ulcers, or red spots of the tongue
Ulcer or red spots in the mouth
Pain in the throat
Difficulty swallowing
Swelling in the jaw or the neck
Change in the voice or hoarseness
Cough
Shortness of breath
Early detection of head and neck cancer in its early stages would save lives.
You have to:
Feel both sides of your neck and the area under the mandible (lower jaw) for any swelling or change in the symmetry of both sides.
Check your mouth cavity and your tongue for any ulcers, red discoloration, or swelling.
Visit your dentist regularly.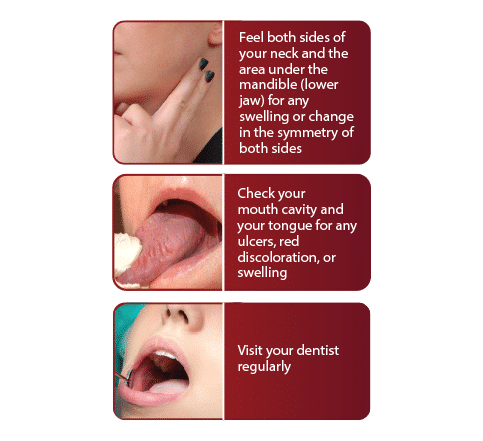 Avoidance or quitting smoking and tobacco products in all its forms (chewing tobacco or sweika)
Avoidance drinking alcohol
Oral and dental care
Healthy lifestyle (healthy nutrition and regular physical activity)
Smoking in all its forms (including chewing tobacco "Sweika" and indirect smoking(
Drinking alcohol
Specific viral infections in the mouth
Previous head and neck cancer
Excessive exposure to radiation
Occupational exposure to some substances (especially people working in certain jobs in the construction, metal, textile and ceramic)

You should consult your dentist or your Ear Nose Throat specialized doctor immediately if you have any of the following symptoms in a persistent (chronic) manner:

Blockage or bleeding in the nose
Pain, ulcers, or red spots of the tongue
Ulcer or red spots in the mouth
Pain in the throat
Difficulty swallowing
Swelling in the jaw or the neck
Change in the voice or hoarseness
Cough
Shortness of breath

Early detection of head and neck cancer in its early stages would save lives.
You have to:

Feel both sides of your neck and the area under the mandible (lower jaw) for any swelling or change in the symmetry of both sides.
Check your mouth cavity and your tongue for any ulcers, red discoloration, or swelling.
Visit your dentist regularly.

Avoidance or quitting smoking and tobacco products in all its forms (chewing tobacco or sweika)
Avoidance drinking alcohol
Oral and dental care
Healthy lifestyle (healthy nutrition and regular physical activity)