QCS hosts 'Hope Iftar ' to celebrate people living with cancer
QCS Team
Qatar Cancer Society "QCS "hosted (the Hope Iftar) event as part of the Psychosocial and social support program for people living with cancer; the ceremony was held at the Doha Sheraton Hotel. It was presented by the Iman Al-Kaabi and was attended by more than 300 patients, survivors and their families, and many public figures and media personalities. , and included the distribution of gifts to children provided by Kiddy Zone and flowers distributed by Floward.
Mrs. Mona Ashkanani – Director General of  Qatar Cancer Society  welcomed the attendees at the IFTAR, which the charity is keen to organize every year, aiming to provide psychological and societal support for people living with cancer, pointing out that the annual event is happening in conjunction with QCS' mission to prevent cancer and control its burden in Qatar by working with its partners to educate the community and to support, empower and advocate individuals living with cancer,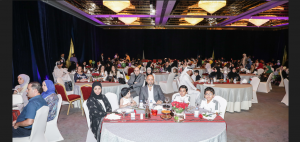 QCS is keen to provide all means of support for people living with cancer, whether material, psychological, social, or educational. In this regard, it has launched many programs concerned with this matter, noting that organizing an annual "Hope IFTAR" aims to shed light on bright models that have been able to conquer disease and overcome it to write May God give them a new glow full of the love of life. She added
she thanked everyone who contributed to supporting the society's vision to be the community partnership platform for making Qatar a leader in cancer prevention and its burden control.