Qatar Cancer Society marks its 25th anniversary with a special ceremony
QCS Team
Qatar Cancer Society (QCS) marked the 25th anniversary of its founding in 1997, with a ceremony attended by several ambassadors of foreign and Arab countries, public figures, partners, sponsors, and the media at St Regis Hotel, coinciding with the conclusion of the charity's 'Blossom' breast cancer awareness campaign.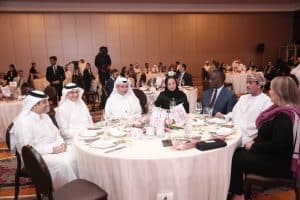 The guests included ambassadors of the US, Canada, Australia, Spain, Switzerland, Jordan, Oman, Saudi Arabia, and Lebanon, the charge d'affaires of Singapore, the deputy head of the French mission, the editors-in-chief of the press institutions, directors of television channels and radio stations in Qatar, and channel managers. The ceremony also witnessed honoring of the media partners and supporters.
Dr. Khalid bin Jabor Al Thani, chairman of QCS, welcomed the attendees, saying, "We have gathered here on one goal — emphasize the importance of partnerships in building communities. The Qatar Cancer Society completed its 25th year with your support and contributions. With your continued support, it will continue on its path, giving back in gratitude for the benevolence of this great country under our wise leadership."
During his speech, he spoke about the establishment of the charity. "It was a committee composed of a group of ministries and state institutions until it was officially announced and established in 1997 and launched from a simple and modest headquarters. It later moved to a larger headquarters with the increase in the number of employees," he said.
He continued, "In 2017, the Cancer Awareness Center was opened, a new qualitative leap in the march of QCS and the first of its kind in the Middle East. Under the Regulatory Authority for Charitable Activities umbrella, the Qatar Cancer Society has become an active member of many international organizations, most notably the Union for International Cancer Control (UICC). It is also a founding member of the International Cancer Prevention Consortium (ICPC), a member of the National Cancer Framework in Qatar, and a member of the Gulf Federation for Cancer Control.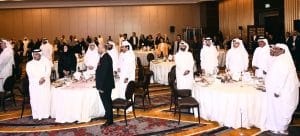 "During 2021, the number of beneficiaries of QCS' community awareness programs reached 450,000. As many as 26,000 beneficiaries received psychological and social support programs organized by the charity for people living with cancer. Nearly 7,000 beneficiaries of health sector workers' capacity-building programs were also achieved."
"In 2021, the number of beneficiaries of the financial support programs reached nearly 1,400, at a total cost of QR13 million. Nearly 980 patients were treated at the National Center for Cancer Care and Research and Sidra Medicine in the first half of 2022, at a total cost of QR6 million," he added.
Dr. Irtefaa Al-Shammari, a breast-surgery specialist and honourary ambassador of QCS, also presented information that motivates everyone, especially women, to undergo screening tests for early cancer detection.
Aisha Al-Tamimi presented her experience of recovering from cancer, while her husband, Ahmed Abdulmalik, also shared the experience from the family's view.