Qatar Cancer Center presents "Awafi" program on Al Rayyan TV
QCS Team
Qatar Cancer Society "QCS "continues to present the third edition of "Awafi" program, which is shown daily on Al Rayyan TV  throughout the holy month of Ramadan from 3:50 pm to 4:00 pm and is repeated after Tarawih prayers; it presents viewers with a variety of healthy cooking show, calculating the number of calories, the body's needs for each food element, and the benefits of the essential ingredients that make up the main dishes.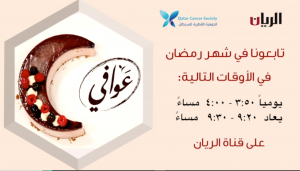 Mrs. Mona Ashkanani – Director General of  Qatar Cancer Society, said, "The production of the "Awafi" program for the third year came as an affirmation of the association's role in spreading awareness of the importance of adopting a healthy lifestyle to prevent diseases, which is represented in healthy food and exercise, As well as positively changing viewers' perception of healthy food and introducing healthy eating habits in the holy month of Ramadan, also focusing on the importance of healthy shopping and choosing useful nutrients. ,
. QCS's continuation of presenting "Awafi" program for the third year came after its success in its first and second seasons with Al Rayyan TV, which prompted the repetition of the experience with the help of Chef Ahmed Bin Yaqoub, who is one of the young faces that offer new experiences in healthy cooking that satisfy all tastes, especially the youth and young age group and bring them back to taste healthy food as an alternative to fast food and its dangerous effects on health. She added.
The General  manager  stressed that raising awareness of Cancer and ways to prevent it by adopting a healthy lifestyle is among the objectives of the  charity  and a fundamental pillar in its mission that seeks to prevent Cancer and control its burden in Qatar by working with our partners to educate the community, support, empower, and advocate for individuals living with Cancer, and to engage in professional development and scientific research in the field of Cancer
This program comes as a continuation of the association's march to spread its awareness message as widely as possible by using all means to achieve its goals, as the charity is keen to organize everything that would improve its services and expand the segments of its beneficiaries through a set of activities and events that aim to educate and spread awareness. And work to create community awareness of the importance of preventive health practices.. she added.