Princess Dina Mired, Mona bint Fahd visit QCS
QCS Team

Qatar Cancer Society (QCS) Chairman HE Shaikh Dr. Khalid bin Jabor Al Thani received H.R.H Princess Dina Mired, former president of the Union for International Cancer Control (UICC), and HH Dr. Mona bint Fahd Al Said, assistant vice for International Cooperation at Sultan Qaboos University (SQU).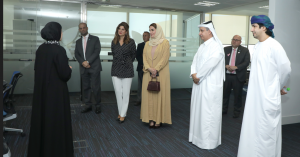 During the visit, the visitors toured QCS facilities and the Cancer Awareness Center. They listened to briefings about their role in spreading awareness of the disease through a set of programs targeting all groups in the society. They praised QCS's efforts in promoting the culture of early detection of the disease, raising awareness of and supporting people living with cancer.
They discussed ways to enhance cooperation and the latest developments in cancer control, support, empowerment, and advocacy for people living with the disease, as well as promoting professional development and scientific research in cancer.
Sheikh Dr. Khalid appreciated the visit, expressing his happiness that the visit will positively impact the efforts of the awareness association.
He explained QCS's activities and its role in spreading community awareness as well as supporting, empowering and advocating for people living with cancer, stressingQCS's commitmentto achieve its mission to prevent cancer and control the burden in Qatar by working with partners to educate the community and engage in the professional development and scientific research in the field of cancer.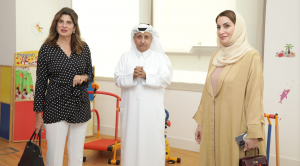 He added that the QCS's vision is to be a community partnership platform to make Qatar a cancer prevention and mitigation pioneer.
He affirmed the society's keenness to keep pace with global expertise to develop its programmes and plans, which would enrich its work through the exchange of ideas between specialists from various sectors and its implications for developing awareness and providing the best ways and services, especially as QCS is a member of Union for International Cancer Control which is one of the largest global institutions.