Minister of Social Development and Family visits Qatar Cancer Society
QCS Team
Her Excellency Maryam bint Ali bin Nasser Al-Misnad – Minister of Social Development and Family, visited Qatar Cancer Society and was received by His Excellency Sheikh Dr. Khalid bin Jabr Al Thani – Chairman of the Board of Directors.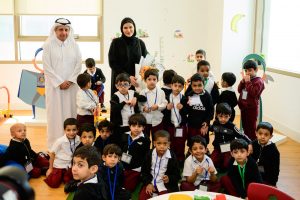 During the visit, Her Excellency toured the charity and the Cancer Awareness Center. He was briefed on QCS and the center's activities and their role in spreading cancer awareness through programs targeting all groups and segments of Society…
Her Excellency expressed her admiration for the charity's efforts in promoting and disseminating the culture of early detection of the disease, raising health awareness and supporting those living with cancer, emphasizing the actions of the State of Qatar in supporting and strengthening the health sector and paying attention to the human resources as it is the essential pillar of community development.
On this occasion, His Excellency Sheikh Dr. Khalid bin Jabr expressed his happiness with this visit, which will significantly impact the charity's progress and awareness efforts. HE presented, during the visit, the activities of QCS to the Minister and highlighted its role in spreading awareness in the community AND supporting, empowering, and advocating for those with the disease.
His Excellency also reviewed ways to support and enhance QCS's activities and programs and the Ministry's active contributions in this charitable and health sector.Further, HE expressed the continuation of QCS since its founding in 1997 to achieve its vision to be a community partnership platform to make Qatar a leader in cancer prevention and burden control through its mission to prevent cancer and control its burden in Qatar by working with its partners to educate the community and to support, empower and advocate individuals living with cancer.