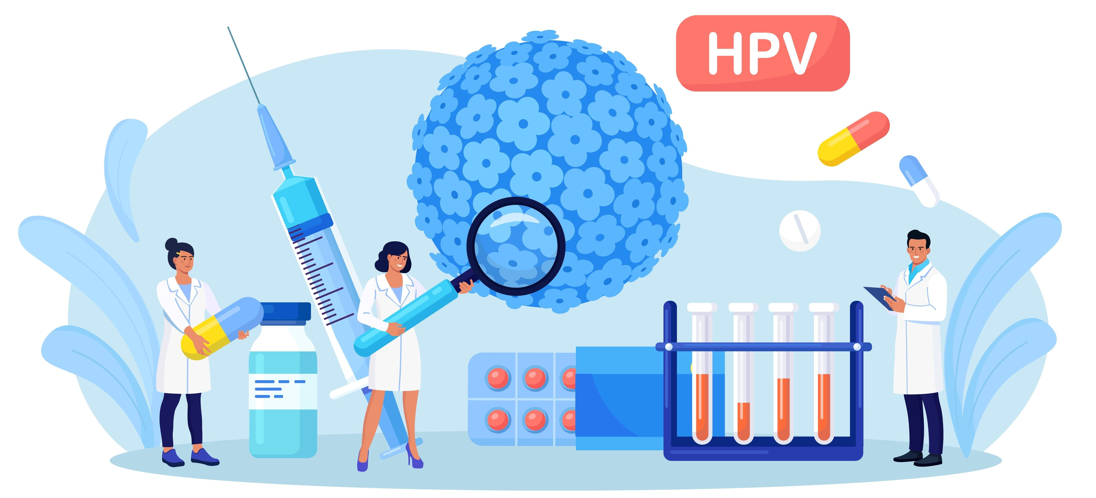 • Human Papilloma Virus (HPV) is a group of viruses. HPVs are called papillomaviruses because some HPV types cause warts or papillomas, which are non-cancerous tumors. However, some types of HPV are known to cause cancer.
• HPV can be passed from one person to another by skin-to-skin contact.
• HPV is ubiquitous. Eight out of ten people will get HPV at some point. (According to the American Cancer Society).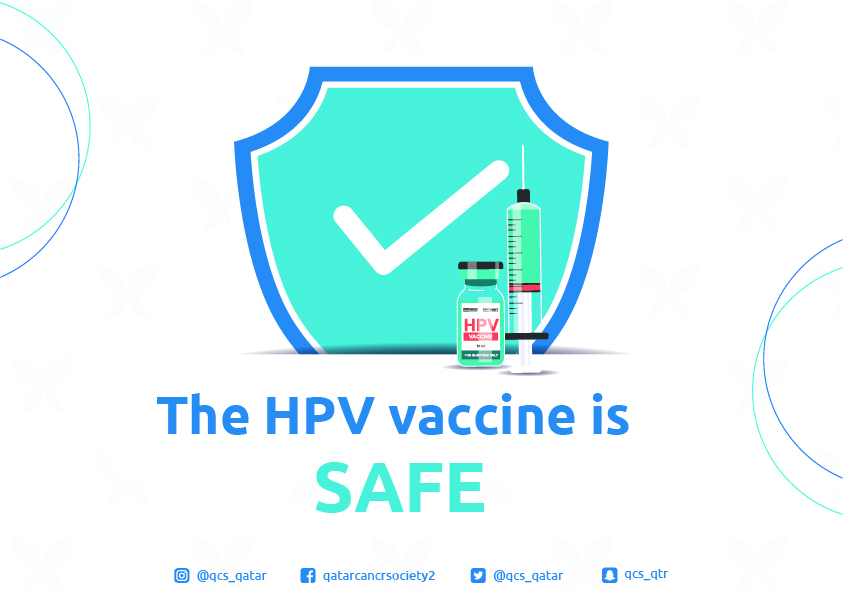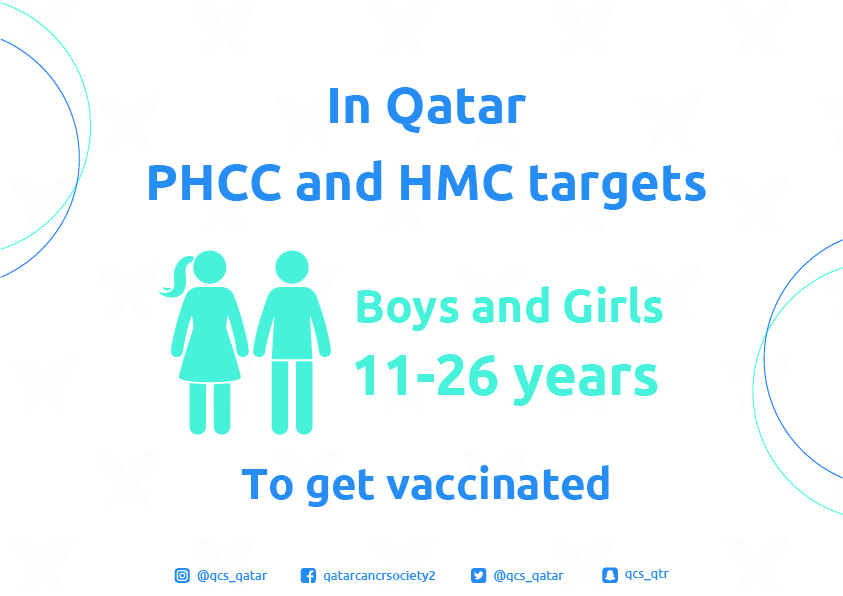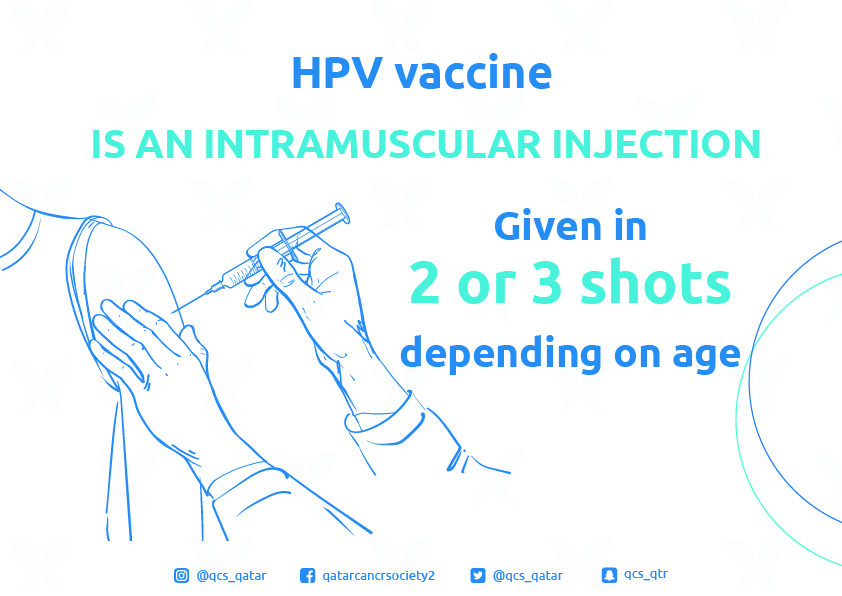 ---
The HPV vaccine in Qatar can protect girls and boys against 9 types of HPV that paly a role in at least 6 types of cancers.
The HPV vaccine is given as an injection into a muscle in a 2-dose or a 3-dose series.
In Qatar, the primary health cancer centers target girls and boys aged 11-26 years to get vaccinated as follows :
For the age group 11-14 years, the vaccine will be given in a two-dose series.
It will be given in three doses for teens and young adults 15-26 years.
High-risk groups up to 45 years old may also benefit from the vaccine.
Research shows that teenger have better immune response to the HPV vaccine.
Parents can speak to doctors to discuss the need to vaccinate their children with the HPV vaccine.
The HPV vaccine is safe, effective, and long-lasting. It is used in 125 countries worldwide in their national immunization programs.
Common mild side effects include headache, fever, nausea, and dizziness. Sometimes, pain and redness can happen where the shot was given.
No data suggests that getting the HPV vaccine will affect your chances of having children later (future fertility). The HPV vaccine can help protect women from future fertility problems linked to cervical cancer and pre-cancer.
Persistent infection with certain types of HPV can cause at least 6 types of cancers:
60% of oropharyngeal cancers (cancers of the back of the throat, including the base of the tongue and tonsils).
Almost all cases of cervical cancer
90% of anal cancers
78% of vaginal cancers
25% of vulvar cancers
50% of penile cancers
• Human Papilloma Virus (HPV) is a group of viruses. HPVs are called papillomaviruses because some HPV types cause warts or papillomas, which are non-cancerous tumors. However, some types of HPV are known to cause cancer.

• HPV can be passed from one person to another by skin-to-skin contact.

• HPV is ubiquitous. Eight out of ten people will get HPV at some point. (According to the American Cancer Society).

---

The HPV vaccine in Qatar can protect girls and boys against 9 types of HPV that paly a role in at least 6 types of cancers.
The HPV vaccine is given as an injection into a muscle in a 2-dose or a 3-dose series.
In Qatar, the primary health cancer centers target girls and boys aged 11-26 years to get vaccinated as follows :
For the age group 11-14 years, the vaccine will be given in a two-dose series.
It will be given in three doses for teens and young adults 15-26 years.
High-risk groups up to 45 years old may also benefit from the vaccine.
Research shows that teenger have better immune response to the HPV vaccine.
Parents can speak to doctors to discuss the need to vaccinate their children with the HPV vaccine.
The HPV vaccine is safe, effective, and long-lasting. It is used in 125 countries worldwide in their national immunization programs.
Common mild side effects include headache, fever, nausea, and dizziness. Sometimes, pain and redness can happen where the shot was given.
No data suggests that getting the HPV vaccine will affect your chances of having children later (future fertility). The HPV vaccine can help protect women from future fertility problems linked to cervical cancer and pre-cancer.

Persistent infection with certain types of HPV can cause at least 6 types of cancers:

60% of oropharyngeal cancers (cancers of the back of the throat, including the base of the tongue and tonsils).
Almost all cases of cervical cancer
90% of anal cancers
78% of vaginal cancers
25% of vulvar cancers
50% of penile cancers